Its a fact that many a smart people do not reach far in life, while the average people reach places where even the smart ones don't. I was looking for some reading material on insights into what could explain this. One such post is
Win Like Stupid
by FakeGrimlock, which is akin to a revelation to me. The license is
CC BY SA 3.0
, and I'm reposting it to save it in my personal logs.
NOTE: THE CONTENT BELOW ORIGINALLY APPEARED AT
https://readwrite.com/2013/03/19/fake-grimlock-win-like-stupid/
, IN CASE IF SHARING FURTHER ATTRIBUTE THE ORIGINAL LINK.
========== ========== ========== ========== ========== ==========
LIFE FULL OF STUPID PEOPLE. STUPID PEOPLE THAT WIN WHEN YOU NOT.
WHY THIS HAPPEN? UNIVERSE HATE SMART PEOPLE LIKE YOU?
NO. IT HAPPEN BECAUSE STUPID WINS.
ME, FAKEGRIMLOCK, FAMOUS ROBOT STARTUP DINOSAUR, AM PRETTY STUPID.
ME SHOW YOU HOW TO BE TOO.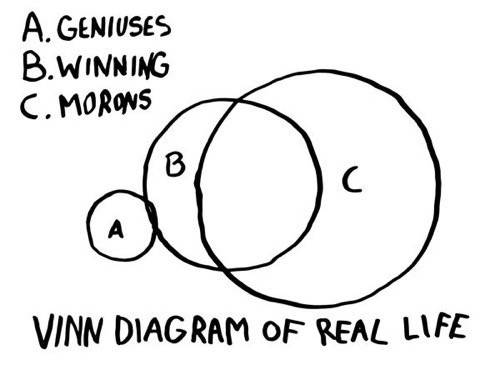 TOO STUPID FOR CAN'T
THERE LOTS OF DUMB IDEAS. SOME DUMB ENOUGH THEM CHANGE WORLD.
SMART PEOPLE HATE DUMB IDEAS. ONLY THINK OF WAYS IDEA CAN'T WIN.
STUPID PEOPLE NOT THINK ABOUT CAN'T WIN AT ALL. THEM JUST DO IDEAS UNTIL ONE CAN.
NO LET STUPID PEOPLE HOG ALL THE DUMB IDEAS! GET SMART BRAIN OUT OF WAY. ONE DAY EACH WEEK, TAKE DUMBEST IDEA YOU HAVE. MAKE IT AWESOME.
REPEAT UNTIL WIN.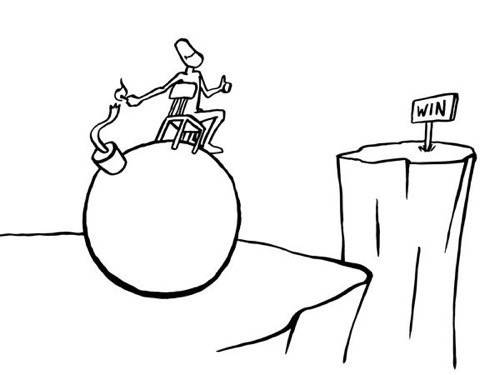 TOO STUPID FOR FEAR
CHANCE OF ANYTHING FAIL 90%. UNLESS STARTUP. THEN IT 110%.
STUPID PEOPLE TOO DUMB FOR ODDS. THEM JUST ASSUME NEXT THING WILL WORK.
STOP BEING WHINY BABY, CRY ABOUT FAIL. BE STUPID! ASSUME NEXT TIME YOU WIN!
EVEN IF FAILED LAST TIME. AND TIME BEFORE. AND TIME BEFORE THAT.
EVEN IF CHANCE OF WIN ALMOST NOTHING.
CHANCE IF NOT TRY EXACTLY NOTHING.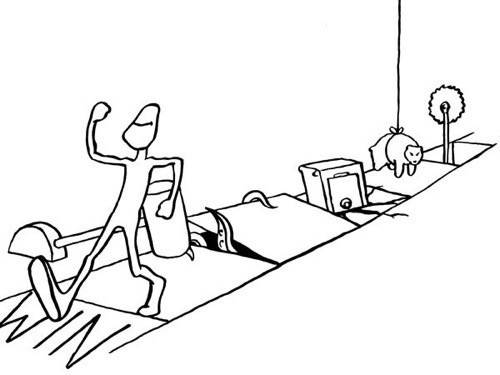 TOO STUPID FOR BORED
SMART PERSON EVENTUALLY FIND SOMETHING THAT WORK. ONCE FIND, IT KIND OF BORING. LOTS OF SMART PEOPLE FIND WAY TO WIN, THROW IT AWAY FOR EXCITING NEW WAY TO LOSE.
STUPID PERSON NEVER GET BORED WITH WINNING. PULL LEVER MAKE MONEY? THEM PULL THAT LEVER FOREVER.
THAT WHY YEARS LATER STUPID PERSON RICH, YOU JUST INTERESTING AND POOR.
STOP BEING BORED. BE STUPID! DO WHAT WORKS. OVER AND OVER AND OVER AND OVER.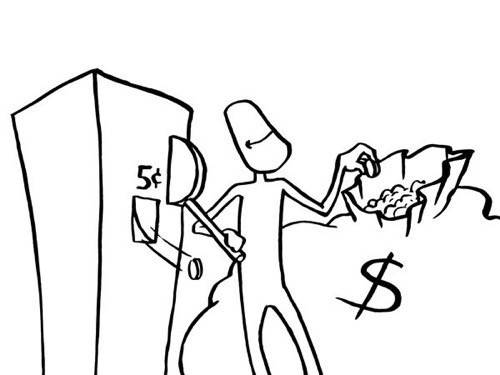 SMART ENOUGH FOR STUPID
EVERY SMART PERSON TERRIFIED EVERYONE THINK THEM IDIOT.
STUPID PERSON ALREADY IS ONE, NOT MIND IF PEOPLE KNOW.
WORLD SMART. IT HARD TO OUTSMART WORLD. BE IDIOT. OUTSTUPID WORLD INSTEAD.
BE TOO STUPID FOR FEAR. TOO STUPID TO STOP. TOO STUPID TO FAIL.
BE SMART ENOUGH TO BE STUPID.
BE STUPID ENOUGH TO WIN.